Albula Alps
A small range in the east of Switzerland lying generally northwest of the Romansch speaking upper Engadine valley. The nearest big town and resort is St. Moritz, although smaller towns down the valley like Zuoz, Zernez and Susch can be more attractive, cheaper and less busy places to stay.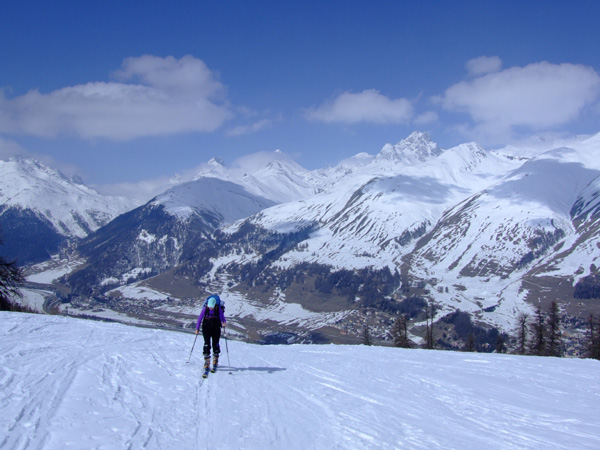 Piz Kesch, the highest summit in the Albula alps, as seen form Piz Arpiglia.
Pictured above and below. The devastation left by a giant avalanche in Eastern Switzerland in the highly unusual spring of 1999.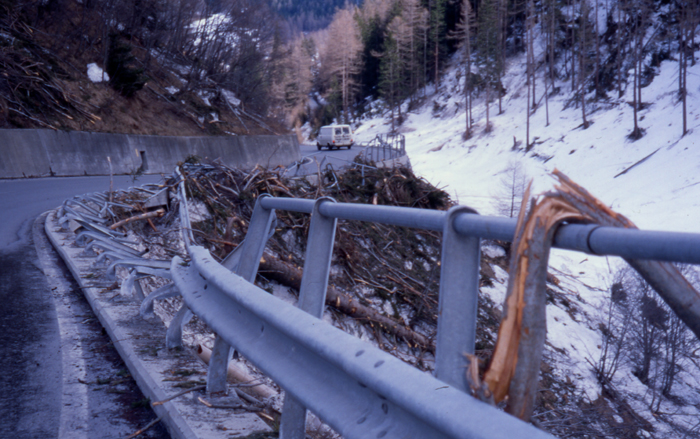 ---
Suggested Tour
A short outing is suggested, rather than a long tour. One of the attractions of this area are that there are many good day tours such as Piz Arpiglia from Zuoz, Piz Grialetsch and Piz Sarsura form the Fluelapass road and Piz Jenatsch from the Julierpass road.
| | |
| --- | --- |
| Day 1 | Madulain to Es-cha Hut |
| Day 2 | Es-cha Hut to Piz Kesch and Kesch Hut |
| Day 3 | Ski through to Piz Grialetsch and Grialetsch Hut |
| Day 4 | Ski out to the Fluelapass road |

Standing around outside the Es-cha Hut after a heavy snowfall
---
Maps & Guidebook
Swiss Landeskarte 268 'Julierpass' and 259 'Ofenpass' (ski versions)
Alpine Ski Mountaineering Volume 2, by Bill O'Connnor.
---