Bernese Oberland
The Bernese Oberland is a huge area of remote terrain in central Switzerland with some of the biggest glaciers in Europe. The famous peaks of the Eiger, Monch and Jungfrau lie on the northern edge of the Oberland.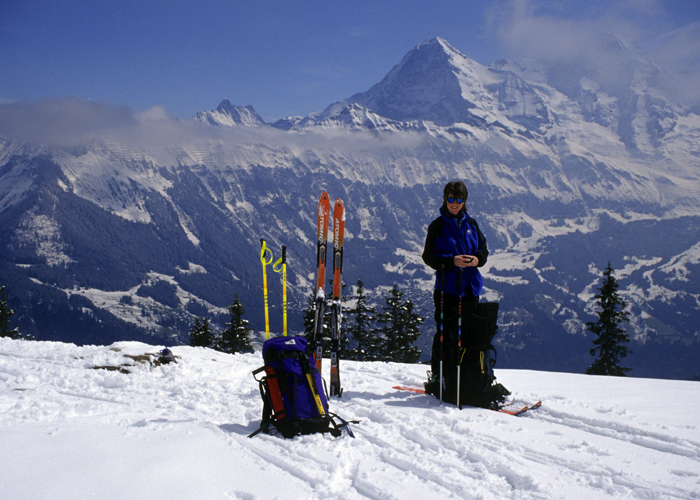 Skinning up Hoj Sullegg in the Bernese Oberland. Great views from this point near the Lobhornhutte across the Lauteraar valley to the north face of the Eiger.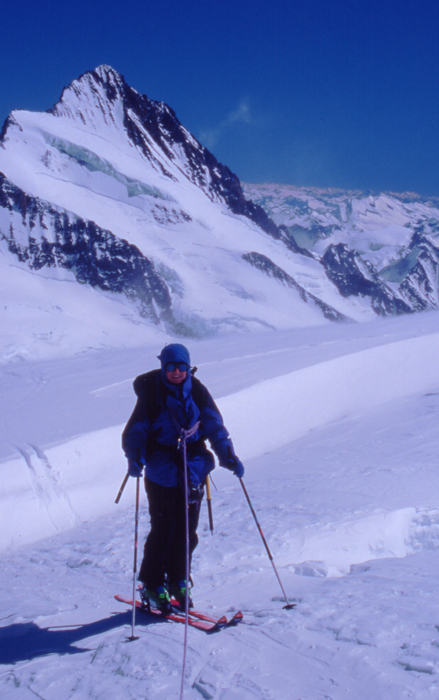 The highest peak of the Bernese Oberland... the Finsteraarhorn from just below the summit of the Kleine Fiescherhorn. The Finsteraarhorn is a quite serious (and long) ascent from the Finsteraarornhutte. The twin peaks of the Fiescherhorn are a shorter and slightly easier day.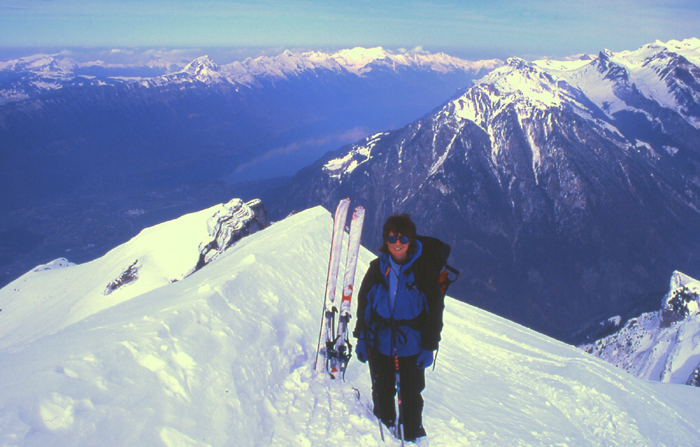 The summit of Hoj Sullegg a great wee 2412m high ski peak just above Interlaken.
This wee peak makes a great day out from Interlaken, either before or after taking on the main peaks of the Oberland. Typically efficient Swiss public transport make it quite easy to complete this ascent in one day from a hotel in Interlaken. Take the train to Lauterbrunnen then the bus to Isenfluh from where a small cable car takes you up onto the Meder Alp beneath Hoj Sullegg. For those looking for something more interesting and unusual why not ski the lower, neighbouring peak - which is called Ars.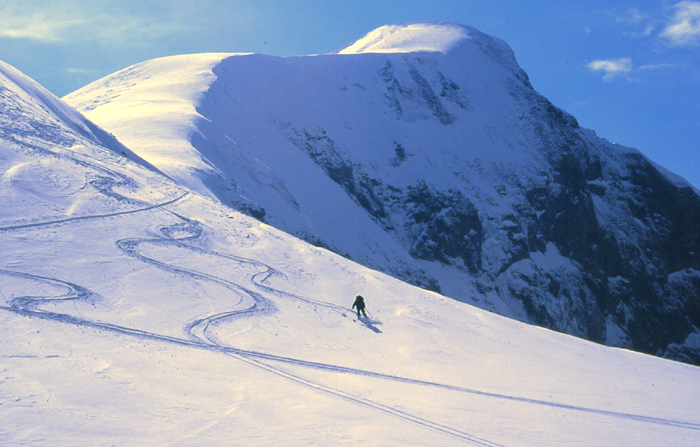 The descent from Hoj Sullegg above Interlaken.
---
Suggested Tour
This is quite a committing tour traversing some of the wildest terrain in the European Alps, and several fairly serious glacier sections. As such, it is not really recommended for beginners, or if bad weather is likely. It is best started from Grindelwald above Interlaken.
| | |
| --- | --- |
| Day 1 | Jungfraujoch railway and short ski to the Monchjoch Hut. |
| Day 2 | Monch ascent, then ski the Jungfrau glacier to Konkordia Hut. |
| Day 3 | Ski Grunnhornlucke and Wysnollen to reach the Finsteraar Hut. |
| Day 4 | Ski the Fiescherhorn. |
| Day 5 | Option to ski the Gross Wannenhorn, then back past Konkordia to the Hollandia Hut. |
| Day 6 | Ski Abeniflue then descent to Blatten. |
---
Maps & Guidebook
The Swiss Landeskartes, ski versions.
Alpine Ski Mountaineering Volume 1, by Bill O'Connnor
---