Ski Mountaineering in the Chamonix Area
The Chamonix group on the border between France and Italy contain many notable summits including Mt Blanc, the highest peak in the Alps. Access to these mountains is easiest from Geneva airport in Switzerland and then on to the town of Chamonix.
Though famous for summer mountaineering and for what is probably the most famous off-piste run in the world, the Vallee Blanche, the ski mountaineering around Chamonix is not that great unless you like seriously steep descents. However there are some good ascents and short tours and the scenery is pretty impressive.
Below are some pictures from trips I have made to :-
Col d'Entreves & Vallee Blanche
Mont Blanc ascent by the Gran Mulets hut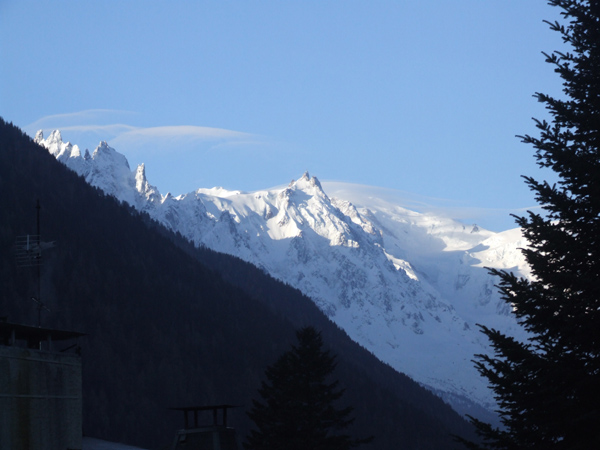 Mont Blanc and the Aiguille du Midi from Argentiere in the Chamonix valley.
---
Aiguille d'Argentiere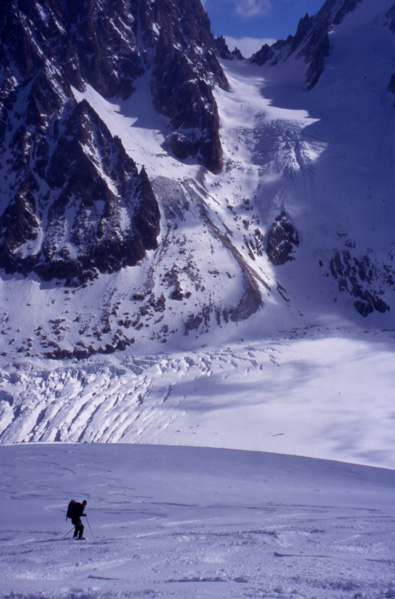 Ski descent from the top of the Grands Montets to the Argentiere glacier, headign for the Argentiere hut which is off to the right.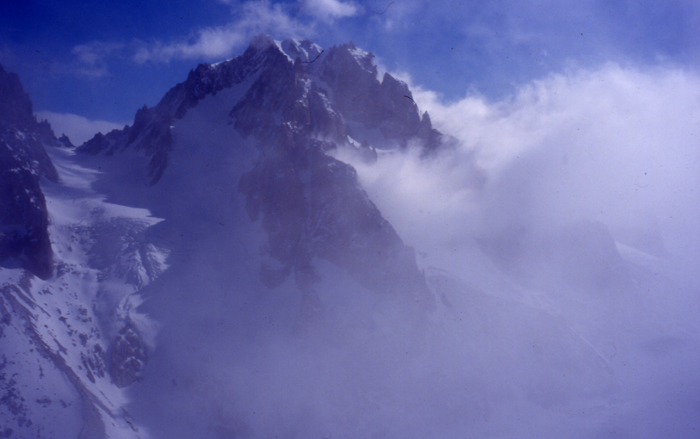 The Aiguille d'Argentiere, the normal ascent route is by the steep glacier just right of centre.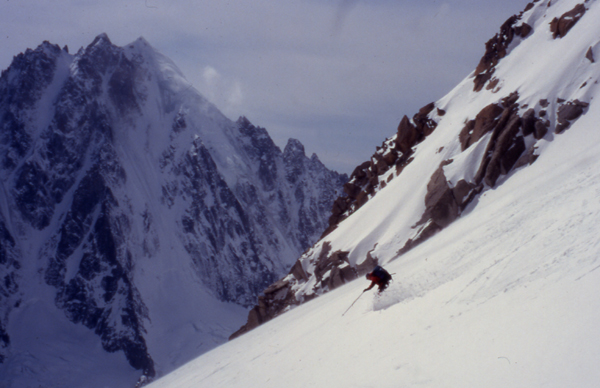 Skiing down the Aiguille d'Argentiere with the Aiguille Verte in the background.
---
Mont Blanc Ascent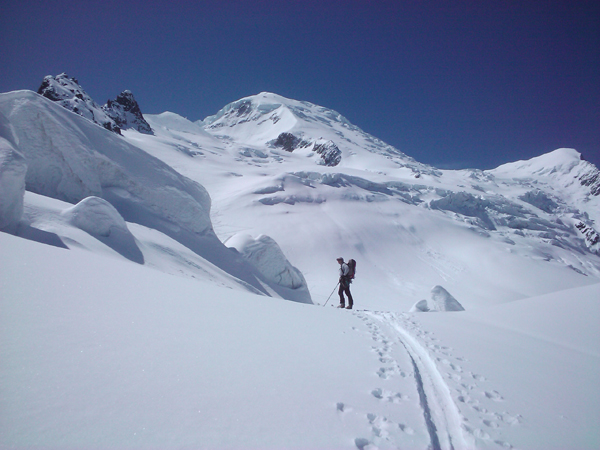 Skinning up towards the Gran Mulets refuge, Mont Blanc, in hot conditions in May 2010.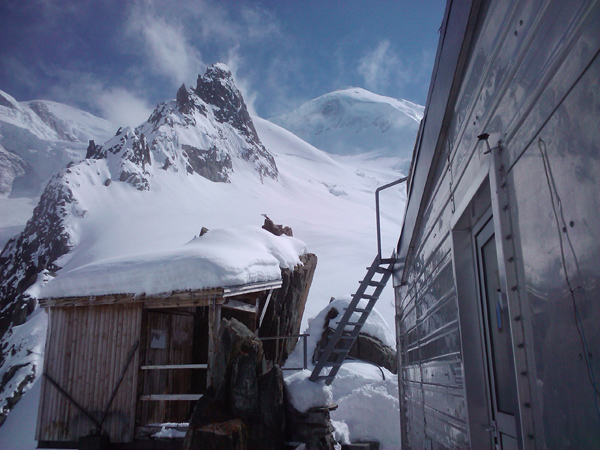 The Gran Mulets hut with the summit of Mont Blanc beyond.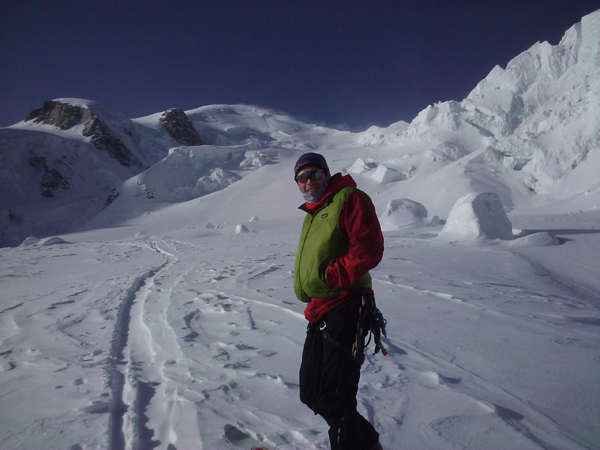 High on Mont Blanc at nearly 4000m.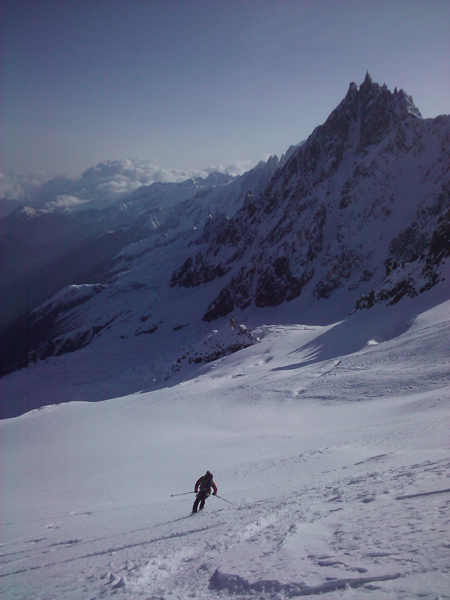 Skiing down form Mont Blanc back towards Chamonix.
---
Col d'Entreves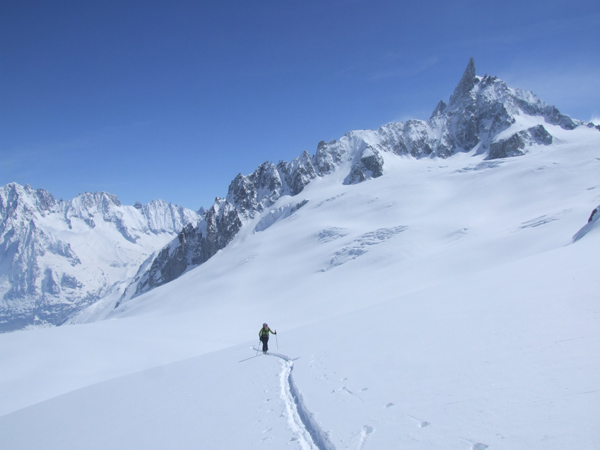 Going up to the Col d'Entreves with the Dent du Geant behind top right, and the Vallee blanche below on the left.
---
Suggested Trips
The Aiguille d'Argentiere as pictured above, makes a good two day trip from the Grands Montets. Another popular trip is the ascent of Mt. Blanc on skis, best done later in the season in May or early June, form the mid-way station on the Aiguile du Midi cable car via the Grands Mulets hut.
There are some good day trips that can be done from the top of the Flegere cable car down to Le Buet, e.g. through the Col de Belvedere or Col de Beugeant.
On the south side of the range the circuit from the Montets cable car through the Col du Chardonnet and Col du Tour is also good.
---
Maps & Guidebooks
French IGN sheet 3531, 'Mt. Blanc' 1:25,000
Alpine Ski Mountaineering Volume 1, by Bill O'Connnor
Mont Blanc et Aiguilles Rouges a Ski by Anselme Baud, published by Nevicata has details of some pretty serious terrain!
---