Stubai Group
The Stubai group in western Austria are a good ski mountaineering destinations for beginners in the Alps. They lie just 30km or so south of Innsbruck, capital of the Tirol region. A good entry town is the small village and ski resort of Neustift. This was the first place I went ski-touring in the Alps and we had a great time. We did a circuit from Neustift to Mutterberg. On the way we skied several good beginners ski peaks including Innere Sommerwand, Wildes Hinterbergl, Kuschheibe and one of the highest, the 3474m Ruderhofspitze.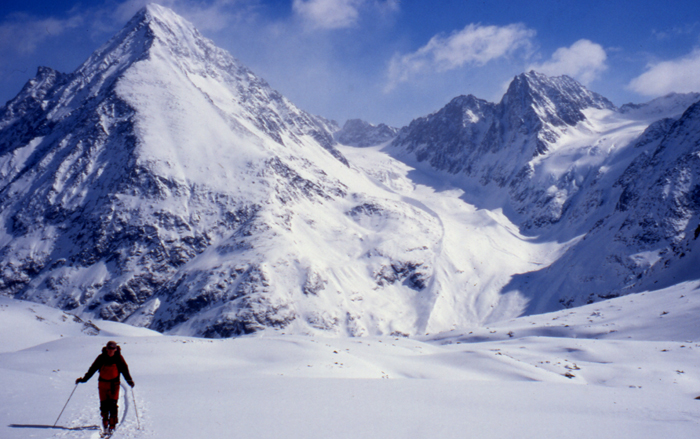 Skinning up Kuscheibe from the Amberger Hutte. Schrankogl, 3497m, is the peak in the background on the left, in the centre of the foto is the Wildgratscharte pass through to the Franz Senn Hutte.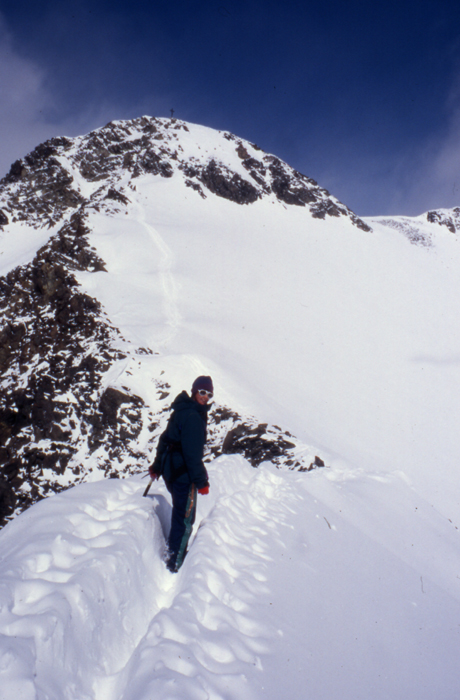 On the summit ridge of the Ruderhofspitze, one of the highest peaks in the Stubai.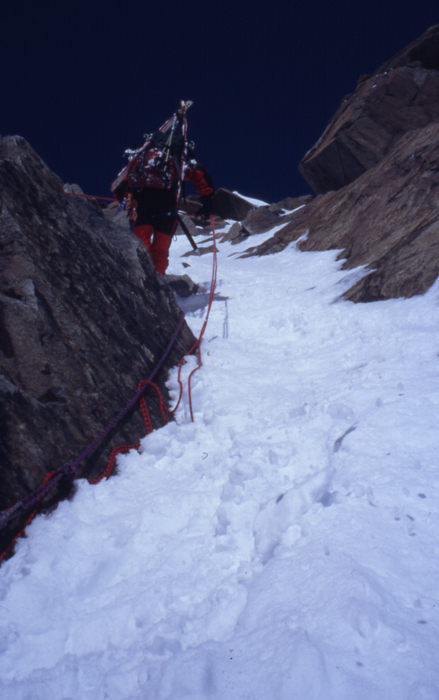 Abseiling off the Wildes Hinterbergl, with skis.
---
Suggested Tour
This is quite a short one, just a week or so, and a recommended tour for beginners.
| | |
| --- | --- |
| Day 1 | From Neustift ski into Franz Senn Hutte |
| Day 2 | Ski Wildes Hinterbergl, 3288m |
| Day 3 | Ski Ruderhofspitze, 3474m |
| Day 4 | Over the Wildgratscharte pass to the Amberger Hut |
| Day 5 | Ski Kuscheibe |
| Day 6 | Over the Daunjoch pass to the Dresdener Hutte and Mutterberg |
---
Map & Guidebook
Alpenvereinskarte sheet 31/1 'Stubaier Alpen'
Alpine Ski Mountaineering Volume 2, by Bill O'Connor
---