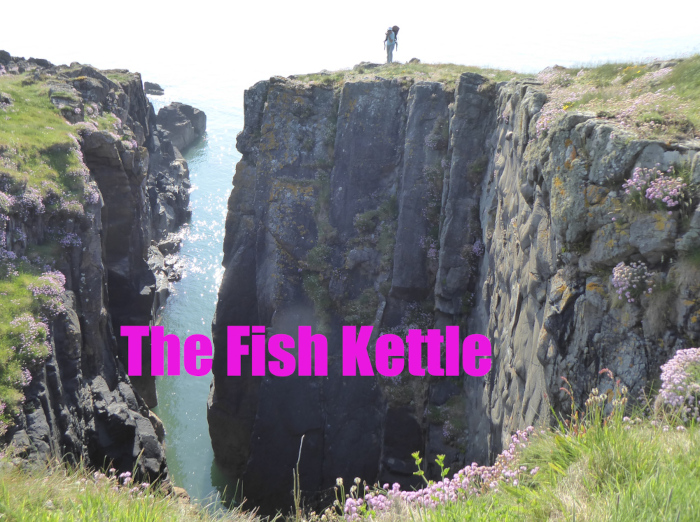 Introduction The Fish Kettle and the Kiln o the Fuffock are two adjacent climbing areas NW of Stranraer, on the coast of the North Channel. The easiest approach is a scenic 30 minute walk from Portobello crags.
Access The easiest approach is via the crags at Portobello beach. To get here follow the A77 or A75 to Stranraer then the A718, B7043 and finally the B738 to Cairnbrook farm. A private track, signposted "Crags", leads down to a small ruin, with limited parking. The Fish Kettle is about 2km south from here, you have to walk along the edge of three large fields. As it is a very narrow slot the Fish Kettle can be hard to locate and the 1:25,000 OS map is recommended as a help. First look out for the bay with the very steep (and loose) looking pinnacle of Juniper Rock, (marked on the map) which is about 100m north of the Fish Kettle. The Fish Kettle itself is a very steep, narrow, slot. The southern wall is granite, the northern wall is greywacke. Routes are about 12m to 15m long.
The Kiln o the Fuffock is about 300-400m further south, quite clearly marked on the map and easy enough to find.
Guidebook For a definitive list of all the climbs here see the SMC published Lowland Outcrops guidebook.
Dangers These are adventurous sea cliffs with areas of dubious rock and the protection is not always reliable. Almost all the routes require abseil access, sometimes to hanging or semi-hanging belays. This is a very open stretch of coast so much of the crag will be hazardous in big seas and is open to rapid weather changes.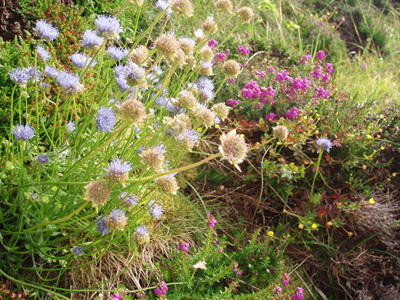 Coastal Flower Scene, The Rhins, Galloway.
---
The Fish Kettle
A small area, with dramatic scenery and not affected by seabirds. Very unusually the rock is good quality greywacke on the north side, but granite on the south side.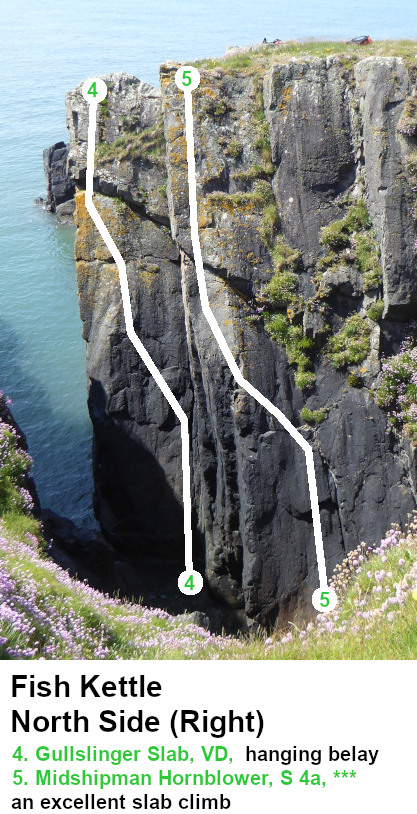 There are some more routes further left on the north wall, but very difficult to get a photo. The Singing Kettle, VS 4c, * is worth climbing.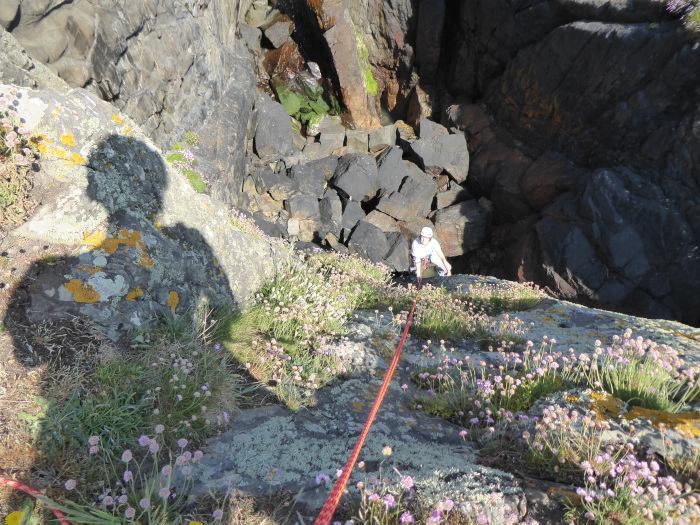 Linda Biggar starting off up the nice arÍte of Midshipman Hornblower, S 4a, Fish Kettle north. Don't follow the guidebook description into the scoop at the top - it seems needlessly hard, poorly protected and off-line...!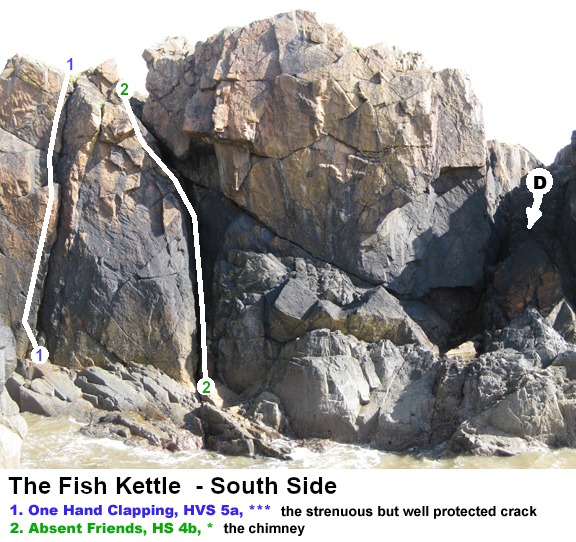 On the south wall access to most of the routes is by a broad gully near the seaward end. About 10m inland from this is the short chimney/crack of Absent Friends HS 4b and further in from the open sea is the steep and very strenuous layback crack of One Hand Clapping, HVS 5a, ***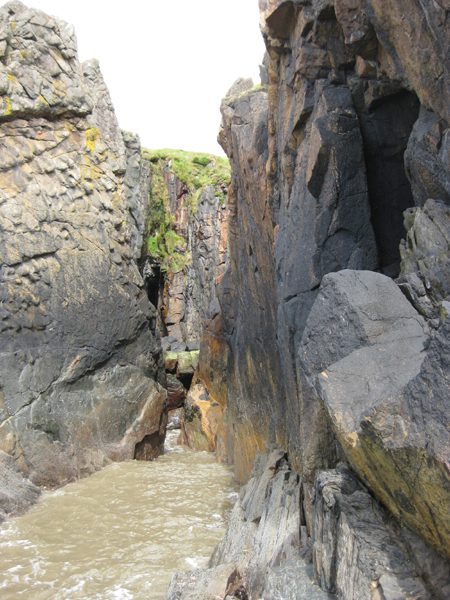 Looking into the Fish Kettle from the seaward end of the steep granite cliffs of the south side.
---
The Kiln o the Fuffock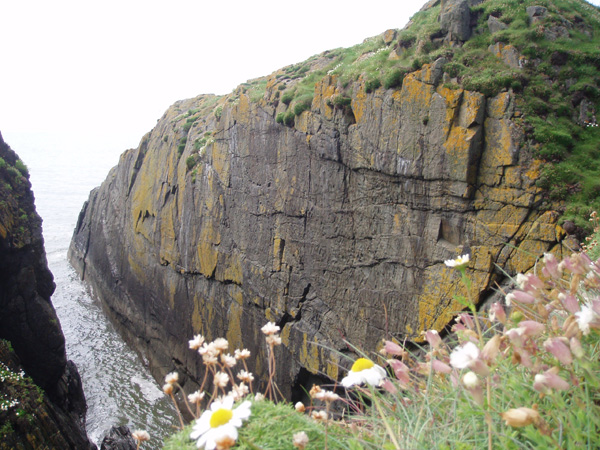 The main crag at the Kiln o the Fuffock, Galloway. There are lots of hard but recommended E3 and E4 routes on this steep greywacke buttress, with one or two VS and HVS routes too.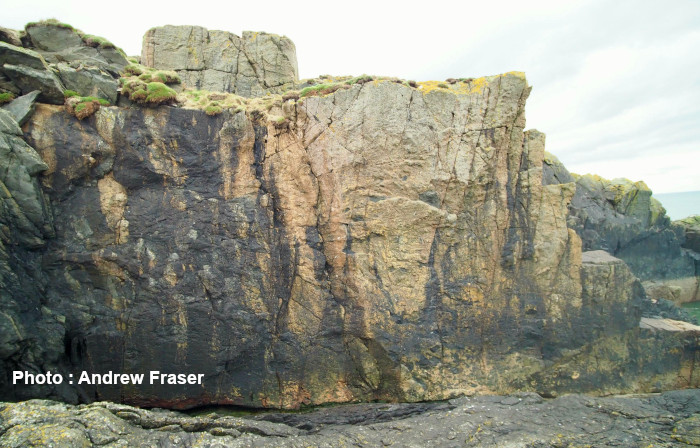 The Orange Wall lies about one hundred meters north of the main crag