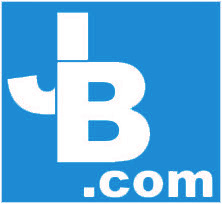 John Biggar : Mountaineering Instructor
Go Climbing Information about the services I can provide as a Mountaineering and Climbing Instructor (WMCI).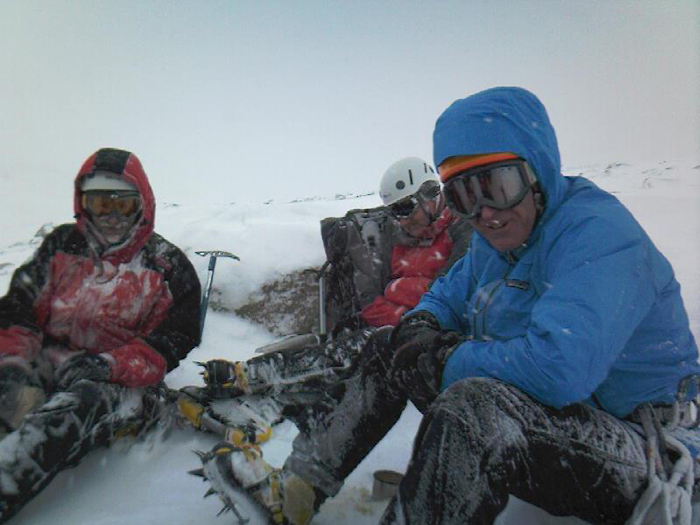 John Biggar running a Winter Skills Weekend for the Galloway Mountain Rescue team while based in the Cairngorms, Scotland. Conditions are not always nice and sunny.!
I'm a qualified Winter Mountaineering and Climbing Instructor and a member of the Association of Mountaineering Instructors, the professional body for UK climbing Instructors. Qualified in winter means I can also work in the much less demanding conditions in a typical Scottish summer!
As part of my professional commitment I recently undertook a CPD (Continuous Professional Development) project to learn and improve my own ability as a splitboarder. You can read about this here.
I live in Castle Douglas, a small town in Kirkcudbrightshire in southern Scotland. My main business for many years has been the guiding agency 'ANDES' which has been trading since January 1992, running expeditions in the highest mountains of South America. I also climb, ski, snowboard and instruct in Scotland, particularly during winter. Since 1996 I have also written and published unique guidebooks to the Andes, which have now been translated into French, Spanish, Czech and Polish. Over many years I've been involved in 100+ first ascents of rock and ice climbs in my local Galloway Hills. In 2007 I became the 2nd person in the world to have climbed the top ten peaks in the Andes, after Dario Bracali. I have also made the first ascents of several Andean peaks, including seven 6000m+ peaks and eight 5000m+ peaks, plus about twenty new routes on 5000m+ peaks in the Andes.
I was brought up in the villages of Currie and Pencaitland, both near Edinburgh in Scotland. I also went to University in Edinburgh where I did a Physics degree and started a Ph.D. in Nuclear Physics. I was studying "Anisotropies in the Sequential Break-up of Lithium-6" if you really want to know. But academic life wasn't really for me...........so I started the business 'ANDES' in 1992. Since then I have been committed to interesting expeditions for small groups in the Andes.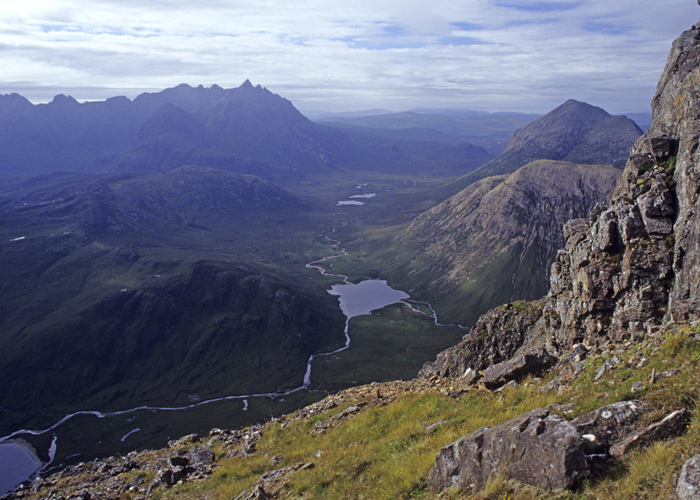 Looking towards Sgurr nan Gillean from Clach Glas, Cuillin Hills, Isle of Skye.
In thirty-odd years climbing I have now climbed on every continent except Antarctica, but the Andes remain my favourite destination. I climbed my first 5000m and 6000m peaks there in July 1989 and July 1991, and I have now climbed over 350 of these peaks. I've also climbed above 7000m in the Chinese Pamirs.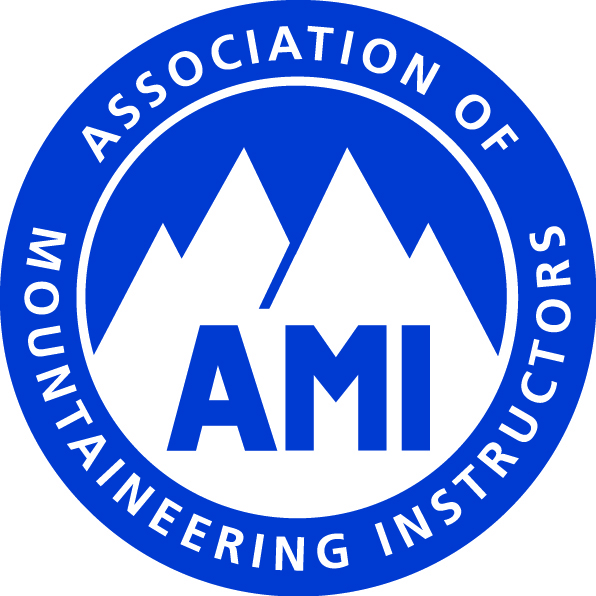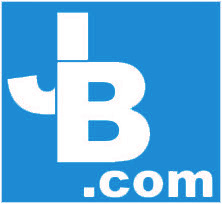 Go Climbing Information about the services I can provide as a Mountaineering Instructor.
37a St. Andrew Street, Castle Douglas, DG7 1EN, SCOTLAND.
W3W : porridge.hunter.report