Introductoion to Winter Mountaineering
Winter mountaineering courses for those new to it. 1:2 ratio
These courses are designed as an introduction to winter climbing and scrambling, and we'll aim to get climbs of up to grade II or even III standard done each day as well as plenty of instruction in ropework, avalanche assessment, winter abseils and route-finding skills. We'll aim to cover some of the basic skills you'll need to learn climbing safely on snow, pure water ice, and winter "mixed" conditions, although this may depend a lot on the weather and conditions we get!.
These courses are suitable for any experienced winter hill-walkers or summer rock climbers who want to do a bit more. It's a good choice if you are aspiring to do some of the classic Scottish winter ridges such as Beinn Alligin, Liathach and An Teallach.
The course will be kept very flexible to adapt to the needs of the clients who book. To some extent we will also have to adapt to the Scottish weather and snow conditions, which can be unpredictable.
With the exception of suitable winter boots, we can provide all equipment necessary such as technical ice-axes, harnesses, crampons and helmets. We can help arrange boot hire for the weekend.
DATES & PRICES ARE LISTED BELOW THE PICTURES, OR CLICK ON THE LINK.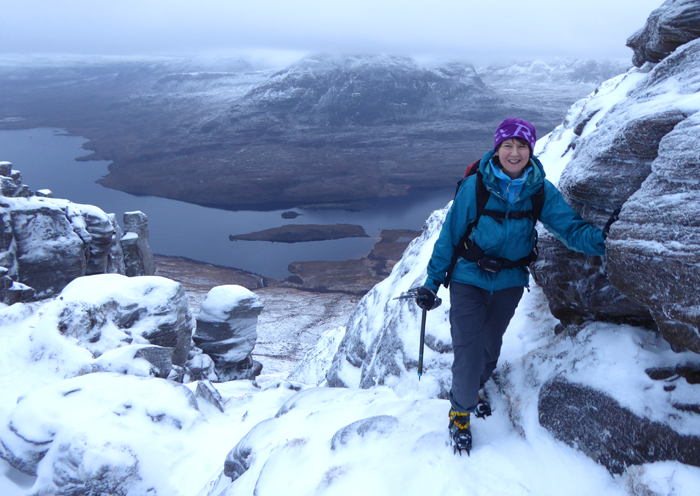 Picture : Winter Scrambling on Stac Pollaidh, Northwest Highlands, Scotland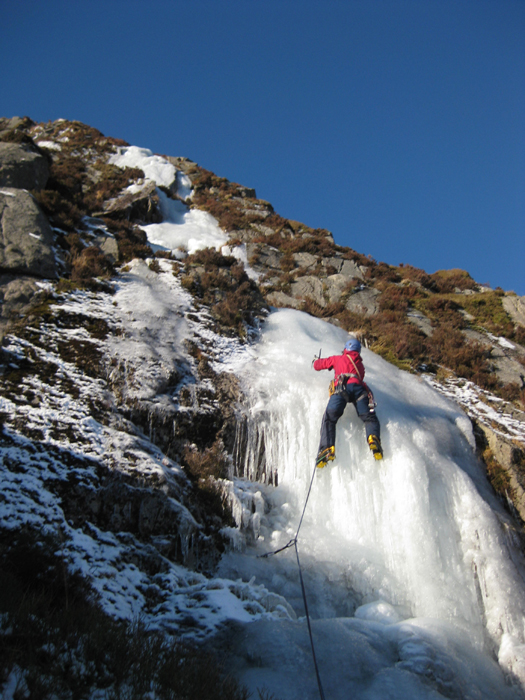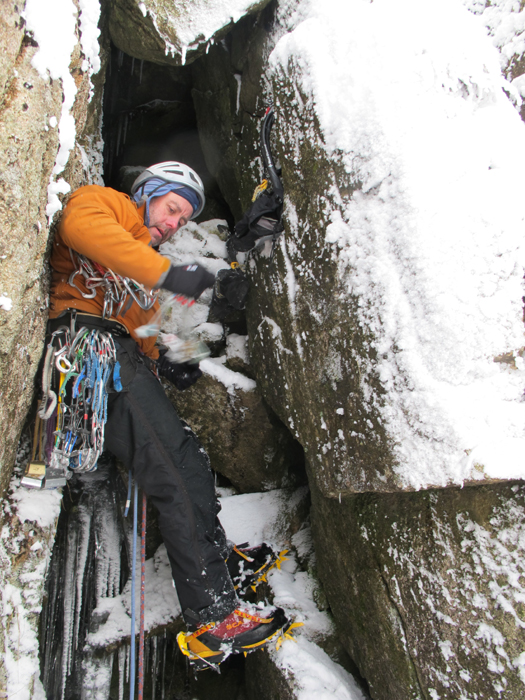 Linda Biggar climbing on pure ice, Cairnsmore of Fleet. Mixed Winter Climbing in Scotland.
We use the wee town of Aviemore in the Scottish highlands as a base for these courses. There are various accommodation options in this area, including hostels, B&B and hotels. I can help with arranging accommodation once you have booked a place on one of these courses. Travel to the area is easiest by car from most of Scotland or northern England. From further afield it is possible to arrive by train or to fly into Inverness airport and rent a car (or we may be able to pick you up there). If you want advice on travel and accommodation options before booking please ask!
---
2023 COURSES
This winter I am not scheduling any courses at this stage. However I am available several weekends, and many days midweek thru to February for bespoke courses if you have a group of friends interested.
---
2023 PRICES & COSTS
My prices are based on a two person course, but I can do a 1:1 course for a higher fee. I can also offer discounts on the prices below if you have a group of four or more persons. This price is for guiding/instruction only. It doesn't include your accommodation and travel to the area, or ski hire, but we can help you arrange these.
1-day course fee -- £155 per person.
2-day course fee -- £275 per person.
Estimated Accommodation & Meals (1 or 2 nights) -- £100 to £150 per person
To book a course please print a Booking Form (PDF) (or use the .DOC version) and read the full Booking Conditions. I'll require a completed booking form returned by post or email and a 50% deposit payment per person. Full payment is due two months before the course.
We generally need a minimum of two bookings to run these courses. Private guiding and instruction is also available for groups or individuals.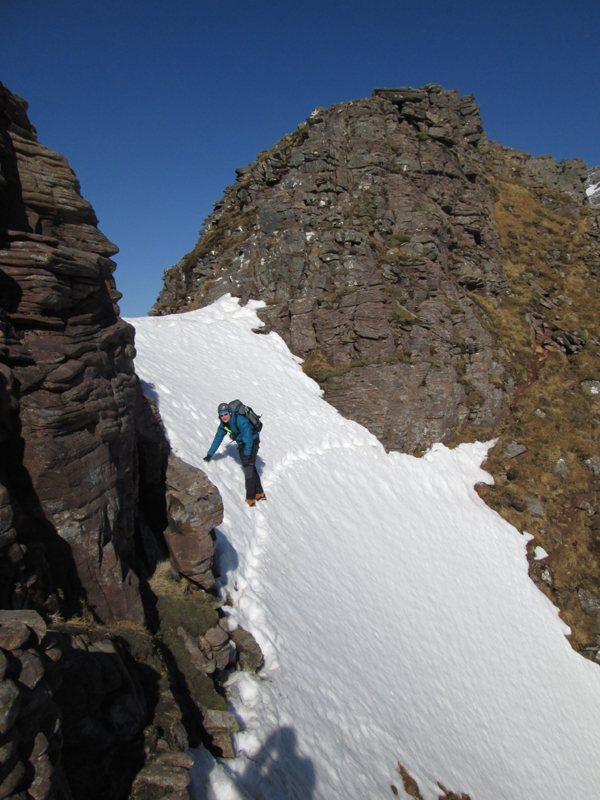 On the "winter" traverse of Liathach, Scotland, March 2015. Barry is using an ice-axe, you just can't see it!

---
SAFETY AND RISK
Winter climbing and mountaineering is an adventurous activity and all clients will be exposed to an element of risk by taking part in this course. While we take all reasonable precautions to reduce risk it is neither possible nor desirable to completely eliminate these additional risks. Some of these hazards carry the risk of serious injury or death. It is important that you understand the risks involved before signing our booking form. We have identified the following areas as the principal additional risks of this itinerary. This is not a fully inclusive list - please ask if you would like to see our more detailed risk assessment for this course before booking.
Remoteness : You will be several hours away from professional medical help for much of the time. In bad weather rescue and hospitalization could take many hours.
Weather : Bad weather, including gale and storm force winds, freezing temperatures and blizzard conditions are extremely common in the Scottish mountains. Whilst forecasts are generally quite good these days and we will plan our course to avoid the most extreme weather, we cannot foresee all eventualities.
Navigation : There is a small risk, in extreme weather, of becoming lost in the mountains.
Mountaineering & Climbing Hazards : In many places you will be subjected to risks from rockfall and falling ice. There are risks of injury from even minor climbing falls and from slipping and sliding on snow and ice. There are risks as a result of mistakes in ropework and abseiling, including the possibility of human error. We cannot foresee every eventuality, nor control what other mountain users do.
Avalanche : In the Scottish mountains in winter avalanches are common. Whilst we take all reasonable measures to avoid exposure to avalanche risk, we cannot foresee every eventuality, nor control what other mountain users do.
A more detailed and extensive full Risk Assessment is available for our winter courses. You should read this before booking!
---