Ski Mountaineering in Russia
There is a huge wealth of opportunities for ski mountaineering in Russia, but the only area that seems to be at all popular at the moment is the central Caucasus and particularly the area around Elbrus. At 5642m Elbrus is the highest mountain in Europe. It lies just north of the main Caucasus watershed which is generally taken to be the boundary between Europe and Asia. It is an active volcano. The Caucasus mountains have some extensive glaciers, and they get heaps of snow in winter. Best season is probably Easter and April, maybe a bit later like May or early June for the highest peaks.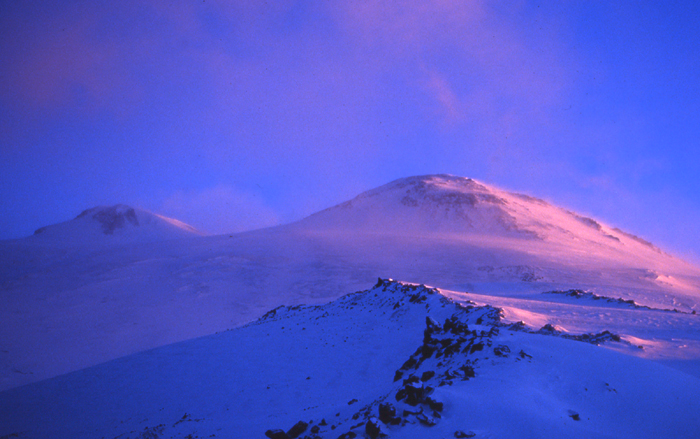 Elbrus at sunrise from the huts at 4100m. The route climbs towards the nearer eastern peak before heading left to the col between the summits. The highest western peak is on the left.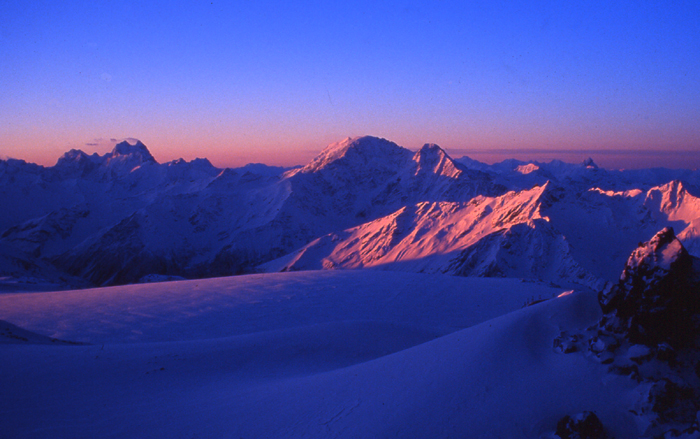 Sunrise over the central Caucasus. Ushba is the peak in the distance on the left. The nearer peaks are Dongusoron and Nakra.
---
While Elbrus is very popular with climbers and skier the neighbouring valleys often have much better and quieter ski touring. However a border permit is needed to enter many of these, and there are also few accommodation options (other than camping). Particularly recommended are the AdylSu and the Azau valleys, although we also heard that the Adyrsu valley was good.
Steep skiing in the AdylSu valley.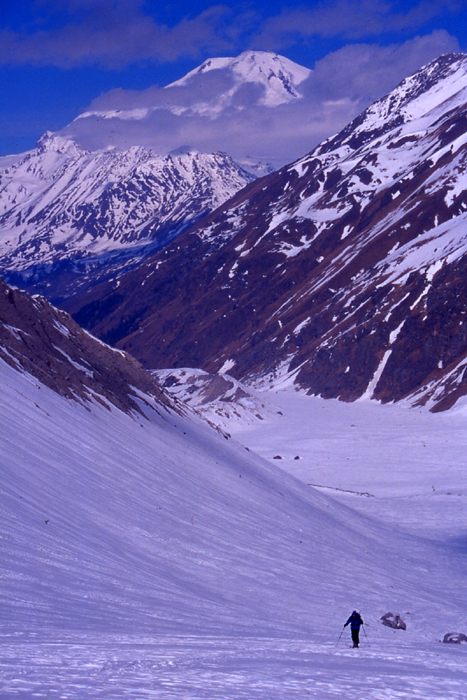 Looking back to Elbrus from the ascent towards Gumachi, 3805m, AdylSu valley, Russian Caucasus.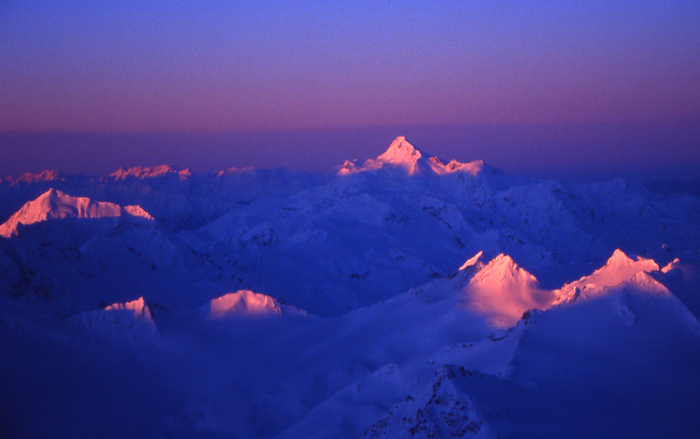 Sunrise over the Svanetian ranges, Georgia.
Note that you will need an invitation from a Russian tourist organisation and a a special permit to travel in the Russian Caucasus... you also need a visa. All in all, this is not one of the simplest ski-mountaineering holidays to organise.
Armenia Ski Mountaineering Ski touring in the rolling hills of the little Caucasus.
Georgian Ski Mountaineering Ski touring in Russia's southern neighbour, generally, easier, cheaper and friendlier....
---