European Ski Mountaineering
Links to further pages on the ski mountaineering possibilities in some of Europe's more far-flung and unusual snowy countries.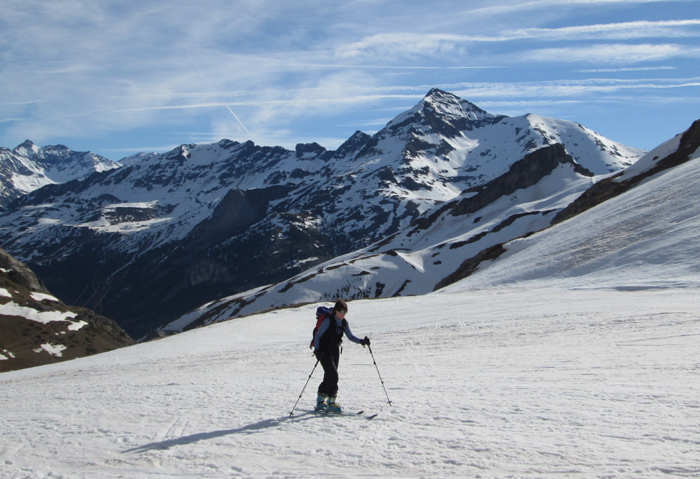 Skinning on Pimene, French Pyrenees.
For information and pictures from ski tours in many areas of the European Alps see the Alpine Ski Mountaineering index page.
For more far flung areas of the world including the Andes, North & South America, China and New Zealand, see the Worldwide Ski Mountaineering index page.
For Scotland, where I live, see Scottish Ski Mountaineering.
Europe

Austria
see our Alpine Ski Mountaineering pages.
Bulgaria
The highest country in the Balkans.
England
Not the best skiing in Europe, but it can get good!
Finland
Some limited ski mountaineering in the extreme north of the country
France
see our Alpine Ski Mountaineering pages.

...and also our Pyrenees page and...

....finally our Massif Central page.
Italy
see our Alpine Ski Mountaineering pages.
Norway
Northern Europe's most expensive country, but great snow....
Poland
The High Tatra mountains are a good ski-mountaineering destination, particularly if you like steep descents.
Pyrenees
The French and Spanish sides of the Pyrenees have some good ski touring and ski mountaineering.
Russia
Skiing in the Russian Caucasus, including Elbrus, Europe's highest mountain.
Scotland
Well it's where I live, so I had to include it.
Slovakia
Slovakia shares a small part of the high Tatra mountains with Poland and has some good ski touring.
Slovenia
Reports, photos and info from ski-mountaineering trips in the smallest and least famous of the Alpine nations.
Spain
The Sierra Nevada and Mulhacen in the south of the country and the Pyrenees in the north provide good skiing.
Sweden
Some good ski mountaineering in the northwest
Switzerland
see our Alpine Ski Mountaineering pages.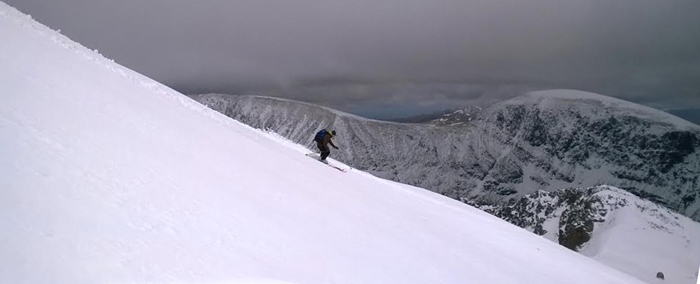 Skiing down the southeast ridge of Ben Nevis towards Coire Leis, Scotland, May 2015.
---